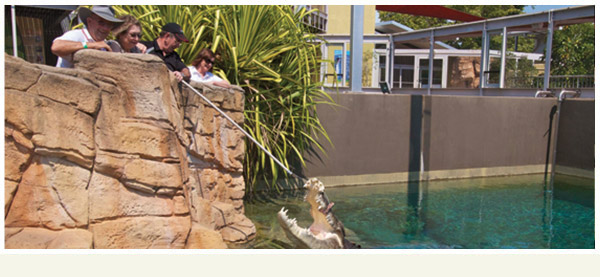 Big Croc Feed VIP Experience
Have you ever wanted to feed one of the earth's most prehistoric creatures? Crocosaurus Cove now offers its guests the unique opportunity to feed some of Australia's largest Saltwater crocodiles as part of a 1.5hour fully guided tour of the attraction. Highlights include an introduction to the World's largest display of Australian reptiles and aquatic creatures of the top end as well as behind the scenes access into the world of the Saltwater Crocodile.
Meet some of the more unique reptiles of the Top End as part of the tours VIP access to the Reptile House where our knowledgeable reptile handlers share their passion for the scaly inhabitants that call Crocosaurus Cove home.
Under the supervision of our experienced crocodile handlers, participate in feeding an adult Saltwater crocodile and gain a greater knowledge of one of the world's most deadly predators.
Gain VIP access t the Fishing for Crocs platform and the Baby crocodile handling area as part of your tour.
Full day entry to Crocosaurus Cove also includes activities such as, Fishing for Crocs, Hold a baby Croc, Meet the Reptiles and more.
Session times.
Time
Tours run daily at 10.00am and 1.00pm
Tour Conditions
Min 2/Max 8 passengers
Min age 4 yrs.
Tours must be booked a min of 1hr prior to departure
---
Click here to read Terms & Conditions
While we aim to provide an entertaining, educational & unique NT experience, please note that we take your safety seriously.
All participants must follow the instructions of Crocosaurus Cove staff members at all times. Entry is at the participant's own risk.
Children under the age of 16 must be supervised by parents at all times.
You will be handling various reptiles that are used to being handled, however they can bite. If they do, please listen to the instructions of Crocosaurus Cove staff members.
While in the back of the aquarium children between the ages of 4 and 10 must wear the life jackets provided. There are non-slip mats for you to step on while behind the aquarium. Please stay on them.
While in the crocodile safety enclosures children between the ages of 4 and 10 must wear safety harnesses and be strapped into the safety bar at all times. It is very important that everyone follows the instructions of the crocodile handlers. The big crocodiles are very dangerous. If you jump over the feeding wall, the crocodiles will attack you, so please don't do that!
Reptiles are cold-blooded animals and their energy levels and feeding habits can vary depending on weather conditions and temperatures. Throughout the dry season, May-Sep, feeding performances may be affected due to lack of appetite. However, they will still try to eat you so please stay out of the water.
Enjoy!
The Crocosaurus Cove Team.