As dry season kicks into gear, so do the events held in Darwin. We were lucky enough to have a few of Australia's biggest bands come in and experience the Cage of Death for themselves – in the last couple of weeks we have had Birds of Tokyo, Kid Mac, Sheppard and the Stafford Brothers.
Check out the pictures below, and keep an eye out for more Celebrity's in Crocosaurus Cove soon……
This last week we had Aaron and Kyle from MTV's Geordie Shore. Have a look at the pictures below!
Local businesses Crocosaurus Cove and Darwin Explorer are please to release their combined tourism ticket, the Croc Explorer.
The ticket includes full day entry to Crocosaurus Cove and a 24-hour hop-on-hop-off pass with Darwin Explorer.
The tickets can be used on the same day or within a 30-day period, providing guests with a package option that is not only flexible, but also offers savings by combining the two products.
Designed to streamline the attraction offering for visitors to the Top End, the new ticket can be purchased through a range of distribution channels and has already proven popular with guests since a soft launch with the local industry last month.
"Attraction tickets can be a hard sell through the traditional distribution channels" Sallie Gregory, Sales & Marketing Manager for Crocosaurus Cove said.
"Flights, accommodation, car hire and/or touring options take precedent over sight-seeing and attractions. By combining these two great experiences in one easy to sell product, we are expecting to see an increase in pre-purchased tickets through agents in 2015 and encourage visitors to explore the city"
"The package has been well received by the domestic and international agents and we are looking forward to working with these agents more closely in 2015 to help ensure they are getting a better insight into what Darwin has to offer"
"Sallie & I have been working on the package for a few months and we have created some exciting visuals to go hand in hand with the package launch, by advertising the package on the back of the double decker buses" says Darwin Explorer's Matt O'Reilly, who has called Darwin home for almost 20 years.
"We look forward to collectively promoting all of the great attractions, museums and history that Darwin has to offer & encouraging guests to stay a little longer in the Top End"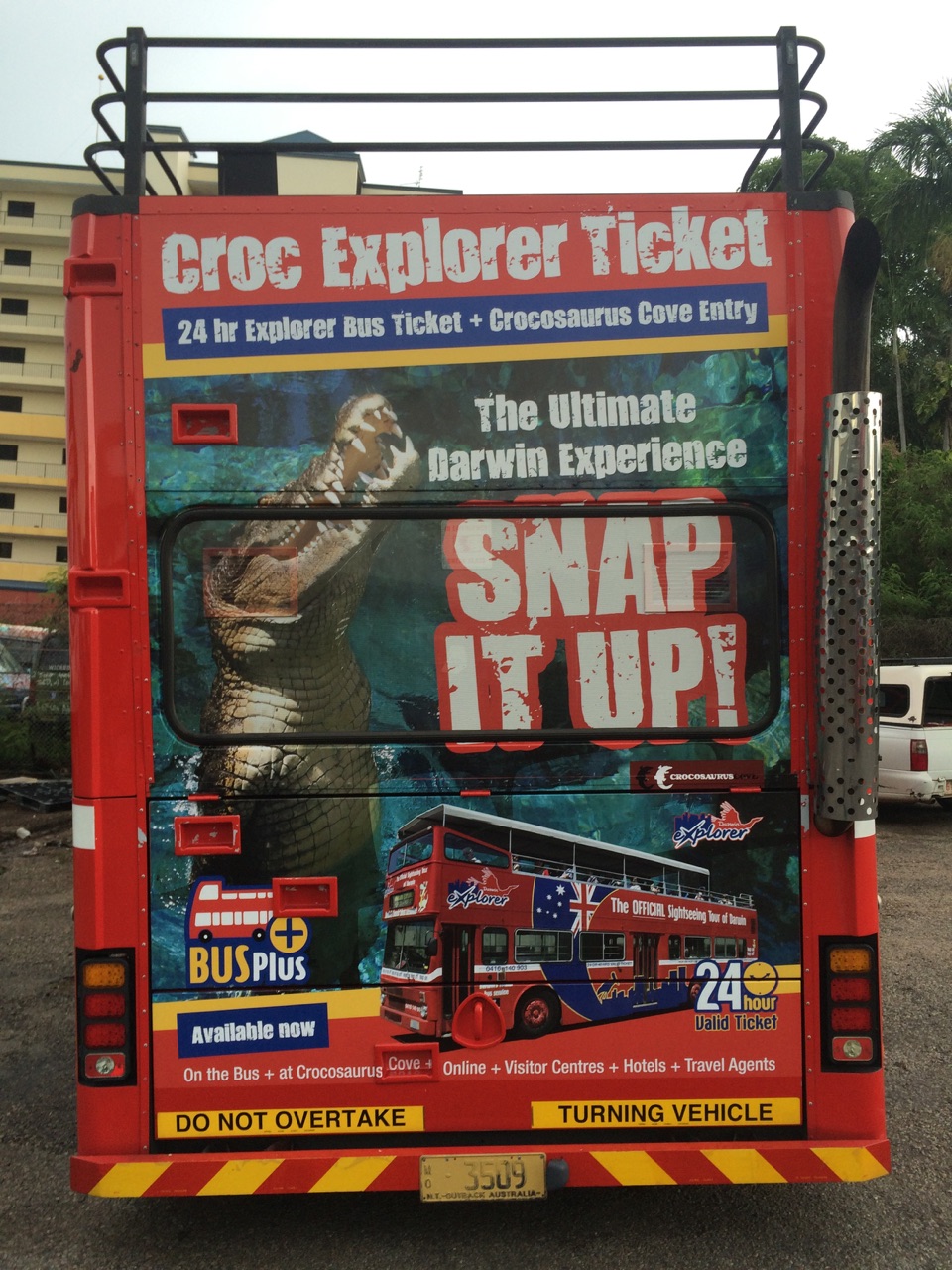 Home to Australia's only crocodile dive, the Cage of Death is a must do when visiting Darwin.
The Cage of Death include 15 minutes in the enclosure with one of the attractions massive reptiles while they are fed from our experience reptile handlers from outside the enclosure. This experience encourages more movement from the crocodiles and ensures an up close and personal, face to face encounter that must be seen to be believed! Make your booking here: https://croccove.rezdy.com/index
Wishing you all a very Merry Christmas from Darwin, Northern Territory.
We hope you have a very festive day with family & friends, where ever in the world you may be!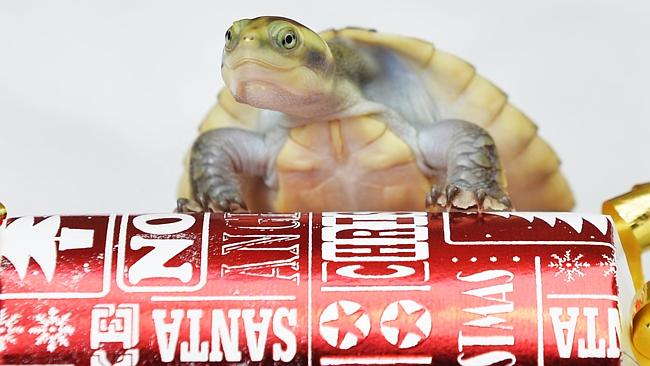 Albert the yellow face turtle is getting into the Christmas spirit at Crocosaurus Cove.
ALBERT the northern yellow-faced turtle is helping to deck the halls of Crocosaurus Cove.
The six-month-old reptile is partial to a red and white colour scheme and plenty of tinsel and baubles.
He may be small, but young Albert has a real eye for design and he was quick to lend a helping hand when it came to moving crackers into place for a Christmas display.
Crocosaurus Cove senior reptile keeper Courtney Maxsted said northern yellow-faced turtles like Albert could be found in the freshwater systems of the Top End.
Their diet is made up of fruits, vegetables and insects but Albert is also partial to a bit of meat.
Ms Maxsted said on Christmas Day, Albert and the rest of the resident animals at Croc Cove would expect a treat from Santa Claus.
"If he continues to be a good boy I'm sure he'll get it too."
Albert is one of the animals used as part of the Crocosaurus Cove Big Croc Feed Experience — don't worry though, he's there for people to see, not for crocs to eat.