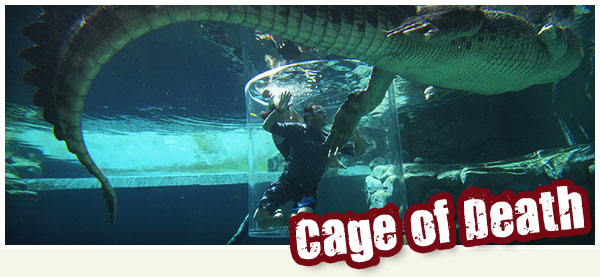 Australia's only Crocodile dive experience
Since opening its doors in July 2008, Crocosaurus Cove Darwin has set a new standard of interaction when it comes to the Top End's most iconic reptiles.
Its inner city location, housing almost 200 crocodiles, including some of the largest Saltwater crocodiles on the planet and its aquarium like underwater viewing of these prehistoric creatures, has proven extremely popular with both locals and tourists alike.
However, it is the Cage of Death, Australia's only crocodile dive that has firmly put Crocosaurus Cove on the map.
Thousands of people have been thrilled & terrified by sharing the very environment of 5m + crocodile, while the unique activity has featured in media publications around the world.
Every dive includes 15 minutes in the enclosure with one of these massive reptiles. Regular feeding by our crocodile handlers when people are inside the cage encourages more movement from the crocodiles and ensures an up close and personal, face to face encounter that must be seen to be believed!
Operated by an over-head monorail and designed for 1 or 2 people per cage, the Cage of Death has you suspended above the crocs before being lowered into the pen to get an up close and personal look at these amazing reptiles.
Don't miss the chance of getting 360 degree views of you and the crocs as our on-site photographers captures amazing images both inside and outside of the crocodile enclosures.
Meet some of our famous inhabitants, such as Chopper and William & Kate and be wowed by this unique, once in a lifetime experience.
The Cage of Death operates 12 times per day, and participants can go it alone, or bring a friend.
Prices include full day entry to Crocosaurus Cove.
Session times
Time
9:30am, 10am, 10.30am, 12noon, 12.30pm, 1pm, 1.30pm, 3pm, 3.30pm, 4pm, 4.30pm, 5.00pm
---
Photo gallery
---
Video gallery
---
Click here to read Terms & Conditions
Minimum age of participants is 15 years.
ID is required for proof of age.
Persons between 15-17 years must be accompanied by an adult or person over 18 years of age.
Participants must arrive 30 minutes prior to the confirmed dive time for safety briefing.
Participants will be required to sign an indemnity release form from Crocosaurus Cove prior to the dive time. Participants between 15-17 year of age must have parental consent and indemnity signed by a parent.
Participants must be able to get themselves up and down a ladder.
Participants be physically able to pull on the safety brake if required.
Reptiles are cold-blooded animals and their energy levels and feeding habits can vary depending on weather conditions and temperatures. Throughout the dry season, May-Sep, feeding performances may be affected due to lack of appetite, while during the build-up in October and November record high temperatures may also have an effect on feeding and the positions of the crocodiles in the water. Our Crocodile handlers have a wealth of experience when it comes to animal behaviour and every effort will be made to ensure you have an up close experience, however please note that we can not guarentee that crocodiles will feed year round. Feel free to contact our Ticket Desk for more information or follow us on Social Media to see the latest images which showcase a daily library of our Cage of Death dive experiences.