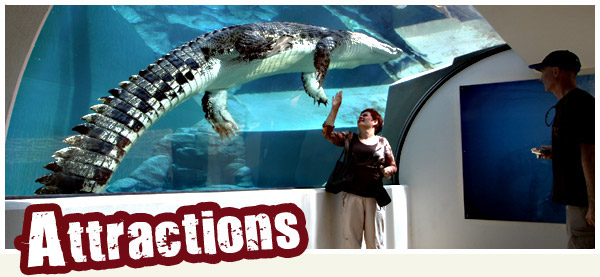 3 levels of entertainment in Darwin City
Be introduced to the World's largest display of Australian reptiles and some of the largest Saltwater Crocodiles in the world, right in the heart of Darwin City.
Crocosaurus Cove is passionate about showcasing the huge array of reptiles found primarily in the Top End of Australia, the kinds of critters that you are likely to encounter at various times of the year across the Kimberley, Kakadu & Litchfield National Parks and Arnhem Land regions.
Imagine a line between Broome in Western Australia and Borroloola in the Northern Territory's gulf, it is these unique landscapes that are home to the many varieties of species that you will encounter at Crocosaurus Cove.
From the freshwater aquarium's Barramundi, Whipray & Turtles to 70 reptile species on display within the Reptile House, Crocosaurus Cove provides the perfect starting point for your Top End Adventure.
---