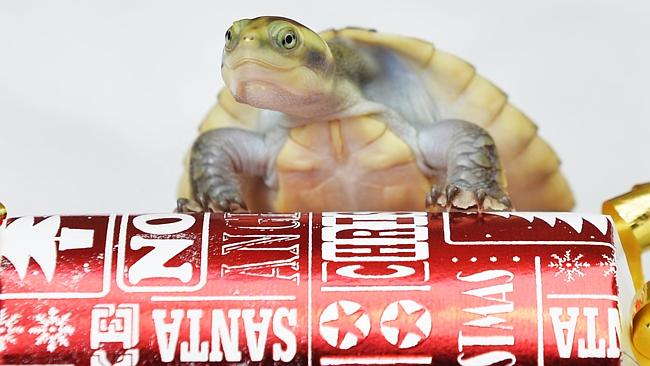 Albert the yellow face turtle is getting into the Christmas spirit at Crocosaurus Cove.
ALBERT the northern yellow-faced turtle is helping to deck the halls of Crocosaurus Cove.
The six-month-old reptile is partial to a red and white colour scheme and plenty of tinsel and baubles.
He may be small, but young Albert has a real eye for design and he was quick to lend a helping hand when it came to moving crackers into place for a Christmas display.
Crocosaurus Cove senior reptile keeper Courtney Maxsted said northern yellow-faced turtles like Albert could be found in the freshwater systems of the Top End.
Their diet is made up of fruits, vegetables and insects but Albert is also partial to a bit of meat.
Ms Maxsted said on Christmas Day, Albert and the rest of the resident animals at Croc Cove would expect a treat from Santa Claus.
"If he continues to be a good boy I'm sure he'll get it too."
Albert is one of the animals used as part of the Crocosaurus Cove Big Croc Feed Experience — don't worry though, he's there for people to see, not for crocs to eat.